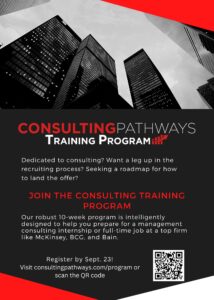 Consulting Pathways Training Program
Dedicated to consulting? Want a leg up in the recruiting process? Seeking a roadmap for how to land the offer?
Join the Consulting Training Program
Our robust 10-week program is intelligently designed to help you prepare for a management consulting internship or full-time job at a top firm like McKinsey, BCG and Bain.
Register by September 23!
Visiting consultingpathways.com/program