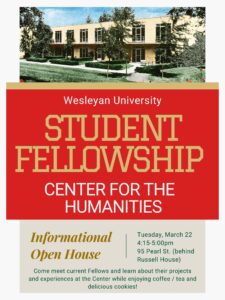 All members of the junior class are invited to apply for a semester-long Student Fellowship at the Center for the Humanities and to attend an Open House on Tuesday, March 22nd from 4:15-5:00pm (95 Pearl Street, lounge) where those interested in applying can learn more about the Student Fellowship Program. Come meet current Fellows and learn about their projects and experiences at the Center while enjoying coffee / tea and delicious cookies!
A total of eight Student Fellowships are awarded each year by the Center's Advisory Board (four Student Fellows for each semester). Student Fellows share an office at the Center and take part in Center events and activities. Among these events are the Center's Monday Night Lecture series; colloquia discussions on Tuesdays, 10:30-1:00; and occasional Center conferences. One course credit is awarded for the Student Fellow's participation in the Center's activities.
Applicants for a Student Fellowship must be planning to do a senior project (usually an Honors Thesis) on a topic relating to the Center theme for the semester or year. The Fall 2022 theme is "Pay Attention!" and the Spring 2023 theme is "Take Care"; for full theme descriptions click here. The project need not be underway at the time of the application. Student Fellows have the opportunity to work closely with Faculty Fellows, Post-Doctoral Fellows, and Visiting Research Fellows in residence at the Center. The Center also provides up to $500 in travel funding to Student Fellows for travel to archives, libraries, museums, conferences, performances and other sites necessary to the completion of their senior projects.
Applications for student fellowships are due by 9am on Monday, March 28th.  Applicants will be informed of the Center Advisory Board's decision by Friday, April 1st, 2022. 
If you have any questions, please email Jess Fowler at jmfowler@wesleyan.edu.
For further information, see: http://wesleyan.edu/humanities/fellowships/students.html