Wes 101: Pre-Reg Continues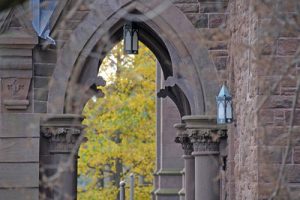 Dear '23,
I hope that you're staying warm!
-Just remember that your faculty advisor must finalize your pre-reg rankings by this Monday, November 18 and you must clear all holds! These are in your WesPortal under Enrollment Checklist.
-On Tuesday, November 19, you should review the courses that you have scheduled, and then on Wednesday, November 20, Adjustment happens.
-Just be in touch with me or our Academic Peer Advisors if you have questions at any point in the process. I recognize that it's a bit different than summer pre-registration, so just be in touch.
-Thanksgiving Break will be from Tuesday, 11/26/2019 at 10 p.m. until Monday, 12/02/2019 at 8:00 a.m.
-Meet COL professors and students at the College of Letters Open House TODAY Thursday, November 14, 4:30-5:30, in the COL Library on the third floor of Boger Hall.
The COL is a three-year Humanities major. Students study literature, history, and philosophy, learn a foreign language, spend a semester abroad, and write a senior thesis or essay. You apply in the second semester of your freshman year. Applications for admission are due Montag, March 23, 2020. If you have questions but cannot make it to the Open House, please email the department chair at uplass@wesleyan.edu
-Information about a great summer opportunity at Spelman College—"Increasing Statistical Preparation for Underrepresented Female-Identified Students"–is attached.
-Information for International Students can be found here, as there will be all sorts of events coming up, particularly during the break.
-Monday, 11/18; "Let's Talk about Relationships" Usdan 108 at 6:00 pm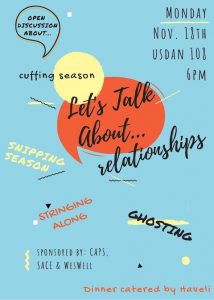 -If you're still looking for ways to get involved on campus, please be sure to look over this list of student groups, as well as looking into the Jewett Center for Community Partnerships and the Patricelli Center for Social Entrepreneurship.
Please continue to be in touch!
Best,
DW
Jennifer Wood (she, her, hers)
Dean for the Class of 2023
(860) 685.2758
Wesleyan University
203 North College, 237 High Street
Middletown, CT 06459
Drop-in hours:
M 2-3, T 3-4, W 4-6, Th 11-12, F 2-4
http://classof2023.blogs.wesleyan.edu
—
You are currently subscribed to fr_oncamp as: jpwood@wesleyan.edu
To unsubscribe send a blank email to leave-1461902-3216240.73a503f2790b0b27702a973e30ad220d@lyris.wesleyan.edu