SAVE THE DATES
EQUITY & INCLUSION WEEK 2023
MONDAY, JANUARY 30TH – FRIDAY, FEBRUARY 3RD
Please join us for a week of programs and activities centering the themes of equity and inclusion. From discussion spaces to 'lunch & learns' to informal gatherings, we look forward to coming together in community as we practice and uplift our values.
A full schedule will be distributed in the new year, but today we are delighted to announce that E&I Week 2023 will begin with a very special kickoff:
Equity & Inclusion Week Keynote
DR. JONATHAN HOLLOWAY
Monday, January 30th at 4:15PM
Memorial Chapel
Reception to follow in Zelnick Pavilion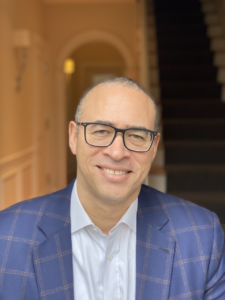 Jonathan Holloway, who was appointed the 21st president of Rutgers in 2020, is an eminent historian specializing in post-emancipation United States history with a focus on social and intellectual history. Dr. Holloway is the author of several books, most recently The Cause of Freedom: A Concise History of African Americans, published last year.
Prior to accepting the presidency of Rutgers, Dr. Holloway was provost of Northwestern University from 2017 to 2020 and a member of the faculty of Yale University from 1999 to 2017. At Yale, he served as Dean of Yale College and the Edmund S. Morgan Professor of African American Studies, History, and American Studies.
He earned his bachelor's degree with honors in American studies from Stanford University and a PhD in history from Yale University. Dr. Holloway serves on several boards, including the Andrew W. Mellon Foundation, the American Academy of Arts & Sciences, the Gates Cambridge Trust, and the Smithsonian's National Museum of African American History and Culture. He is a Fellow of the Council on Foreign Relations.

Equity & Inclusion Week is hosted by the Office for Equity & Inclusion and made possible by a committee of colleagues from across the institution.