Dear '23,
I am out of the office today due to illness, but I wanted to send a note to you all prior to the break.
This is a natural and ideal moment for self-reflection in the term, both intellectually and personally, so please be sure to take a moment to ask yourself some of the questions below. After taking some time to decompress, be sure to use the break to plan ahead, as the term moves pretty quickly post-break:
Think about when your big assignments/assessments will be.
Plan backward from deadlines.
Perhaps include false deadlines for papers, a week or even a few days in advance of the actual deadline, so that you can consult the Writing Workshop.
Consider your goals for the remainder of the term. Some common examples are getting better sleep, eating healthier, setting up a CAPS appointment, maintaining healthier relationships,  going to the gym more often or finding ways to reduce stress. Determine the next steps you'll need to take. WesWell can be an invaluable resource for many of these.
 Think about how well you're using your resources, whether your instructors, peer tutors, academic peer advisors, your faculty advisor, the Career Center, Study Abroad, the Office of Religious and Spiritual Life, the Resource Center, or even your class dean(!), and then consider how you might make the best use possible of those support systems available to you post-break.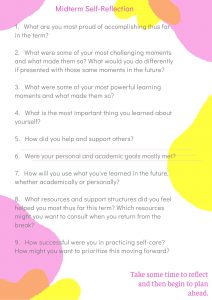 -Apply to be a writing workshop team member by March 27!
I wish you all safe travels and good health.
Take care,
DW
Jennifer Wood (she, her, hers)
Dean for the Class of 2023
(860) 685.2758
Wesleyan University
203 North College, 237 High Street
Middletown, CT 06459
Drop-in hours:
M 2-3, T 3-4, W 4-6, Th 11-12, F 2-4
http://classof2023.blogs.wesleyan.edu
— You are currently subscribed to fr_oncamp as: jpwood@wesleyan.edu To unsubscribe send a blank email to leave-1475315-3216240.73a503f2790b0b27702a973e30ad220d@lyris.wesleyan.edu