Wes 101: Grading Mode Deadline, Self-Testing Tips and Strategies
FINAL REMINDER: The deadline to Change the Grading Mode for Student Option Courses is TODAY at 5:00 p.m.
Today is the last day to change the grading mode for student-option courses.  If you wish to change the grading mode for a course, log in to portal, and click on "Class Schedule."  For student option courses, there is a drop-down menu in the grade column where you can select the grading mode you desire.  Changes to grading mode do not require approval of the instructor or your faculty advisor.
Announcements:
COL Open House
"Meet COL professors and students at the College of Letters Open House Tuesday, February 25, 4:30-5:30, in the COL Library on the third floor of Boger Hall (41 Wyllys Ave.) The COL is a three-year Humanities major. Students study literature, history, and philosophy, learn a foreign language, spend a semester abroad, and write a senior thesis or essay. You apply in the second semester of your freshman year. Applications for admission are due Monday, March 23, 2020 at COL website www.wesleyan.edu/col.
Apply to be on the Honor Board or Community Standards Board
Library Undergraduate Research Prize
Workshops on Public Speaking, Data Vizualization and more
Self-Care Workshop for Survivors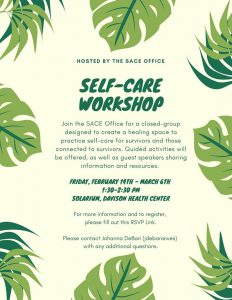 Summer Assistant Position in the Sustainability Office
Seven Tips for Self-Testing
Develop a positive attitude when you're studying. If you believe a subject is boring or unimportant, you will have more difficulty recalling the information.
Write out notes in your own words, ask yourself questions about the material, predict possible test questions, etc.

Memorization and mnemonics should come last after you have a solid understanding of the material so that you are learning rather than simply studying the course content.

Expose as many senses as possible to the study material: write it, speak it, hear it, visualize it. This will help commit the material to memory.
Create associations with the material and determine patterns and trends. It is easier to recall new information if it is attached to old, easily retrieved information.
Memorize materials in short intervals of time as you are more likely to remember the material at the start and at the end of your study intervals. Recite what you have memorized at random times. Set reasonable expectations for each study session.
Use study aides: note cards of key points, key words, definitions, and equations; create quizlets,, do extra problems, immerse yourself; explain the main ideas to friends, join a study group. Studying with friends can create a more active approach to the material rather than studying alone.
Pretend that you're teaching the material to someone else; this enables you to engage with the material actively.
Okay, that's it for this week; please be in touch if I can be of help at any point.
Best,
DW