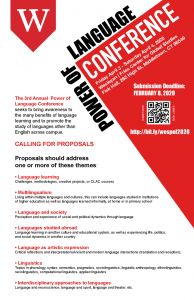 The Power of Language Conference seeks to bring awareness to the many benefits of language learning and to promote the study of languages other than English across campus. It creates a forum to empower culturally sensitive citizens to thrive in the contemporary global environment. This year's conference will highlight multilingual initiatives inside and outside the classroom. We invite students, faculty, alumni, and members of the community to join us in celebrating multilingualism on Wesleyan's campus and beyond.
To learn more about what types of a proposals we're looking for, please visit bit.ly/wespol2020 
The deadline for proposal submission is Saturday, February 8th, 2020 at 11:59 p.m. EST. 
If you have any questions about the conference, please feel free to reach out to me or any of the members of the Conference Steering Committee.