Just a few days left to complete all the tasks that are due on July 1!
I wanted to underline the importance of the Learning & Living program, the Academic Interest Questionnaire, and the Transfer Connections Form for incoming transfer students, all of which are available in your WesPortal.
Anya Kisnicki, one of our Orientation Interns, participated in the Learning and Living program this past year and loved it; she would be glad to answer any questions you might have. The L&L seminar—Great Books Unbound: How to Live Forever —focuses on the question: How do classic works in literature manage to break the bounds of humanity and live forever? Readings will include works by Descartes, Shakespeare, Boito, among others, and will include a trip to the Metropolitan Opera in New York. This program offers you the opportunity to build a community and grow together during your first year both intellectually and socially.
The Academic Interest Questionnaire is extremely important, as we look to your responses in order to learn more about you as a learner. The questionnaire will prompt you to think about your intellectual and academic passions and will also enable us to assign your faculty advisor, your group for Orientation, and get to know you better.
If you're an incoming transfer student, please fill out the Transfer Connections form . Students who transferred to Wesleyan over the last two years have volunteered to be your connection, or contact point, this summer and over the coming academic year to answer your questions and help you get settled into campus life. Past transfer students have expressed their appreciation for having had such a connection, saying "it was great having another transfer student share their experience…it was nice to have someone on campus who I knew could help me out in a pinch." Another student noted that having similar interests with their connection enabled them to quickly become good friends.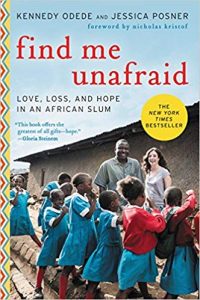 You may recall that I have mentioned our Common Reading, Find Me Unafraid: Love, Loss and Hope in an African Slum, by Kennedy Odede '12 and Jessica Posner '09. A code will be available to you soon via your WesPortal so you can access the electronic text. An introductory letter from our Provost and Vice President of Student Affairs regarding the First Years Matter Common Reading is available here. Please note there are some difficult topics brought up in the text, such as domestic abuse, sexual violence, homelessness and the hardships of poverty.
Pre-Registration
We will soon be turning our attention to pre-registration, which will be coming up in mid-July. In the Academic Highlights section of this week's newsletter, I describe some of the things that characterize a balanced schedule. This will help you to get off to a healthy and strong start to the semester.
For most first-time college students, the large number and variety of course offerings, compared to the pre-determined curriculum in high school, may seem simultaneously exciting and intimidating. Don't worry. There are several useful advising resources to help you through this process.
University Hours
Between Friday, June 28th and August 9th, most university offices at noon EST Fridays. With the upcoming July 4th national holiday in the United States, you also may find it difficult to reach various personnel at the university next week. We will do our best to address any questions or concerns. In the meantime, there is a wealth of information on the Orientation website.
Cardinal Tech
Cardinal Tech is Wesleyan's Apple Authorized Campus Store! Save money with education pricing all year long and take advantage of any Back to School promotion Apple launches. (Previous promotions began mid-July, so keep an eye on our website for updates.)
We are also authorized to sell HP, Dell, and Windows Surface products. Standard configurations are available to order on our website or you can call Cardinal Tech 860-65-4400 for more options. Dell is offering a $100 rebate on any computer purchased for college now through October 31st, 2019. Get free shipping on any computer with promo code: 2019FREESHIP (on orders $699+). Place your order today at www.wesleyan.edu/cardinaltech.
Don't forget to add Safeware to all of your technology, whether you buy your computer from Cardinal Tech or not. Safeware protects your tech from all the hazards of college life: cracked screens, liquid damage, theft, as well as manufacturer defect. It even covers your charger! Pricing starts at $99 for 2 years with extendable coverage to fit your needs.
Contact Us:
860-685-4400
cardinaltech@wesleyan.edu
New Resource for International Students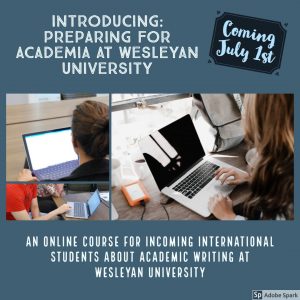 This year Wesleyan is offering an online course for incoming international students to make your transition to US academia a little easier. On the evening of July 1st, a course named "Preparing for Academia at Wesleyan University" should automatically appear in your list of Moodle courses. To access it, go to your WesPortal, click on the "Moodle" icon (across the top) and it should appear under "Community Moodle."
The course is mainly about academic writing in the US, which may be different from the writing conventions in your home country. These sections focus on critical reading, essay structure, and academic integrity. There are also sections for reviewing English grammar, building academic vocabulary, and finding writing resources at Wesleyan. The course is optional but we encourage you to do the first three modules before you arrive at Wesleyan.
If you're an international student, you'll be enrolled in the course automatically (no need to do anything). If you are a US citizen but didn't attend high school in the US, are unfamiliar with US academia, or speak a first language other than English, you're welcome to join us. Just send Professor Beth Hepford an email at ehepford@wesleyan.edu and she'll enroll you.
Preferred Name
Some members of the Wesleyan community are known by a name that is different from their legal name. Students who wish to be identified by a preferred name can enter that name in the Personal Information section of their WesPortal. More information is available here.
Also, this will be the last time we will send information to you using your personal email account. Please use your Wesleyan email account from now on.
Academic Highlights
Preparation for Pre-Registration
You should begin to think in terms of building a manageable course of study that offers challenge as well as flexibility for you to explore the curriculum and discover new interests. As you pursue your educational goals, keep in mind the idea of constructing a schedule that is balanced, challenging, and interesting. An academic schedule is balanced when:
There is a combination of small and large classes, lecture and discussion, and variations in course content and focus (e.g., reading, writing, quantitative work, artistic activity). This can provide breadth and stimulate academic curiosity while keeping a schedule manageable yet challenging.
There is variation in class days and times. For some students, this is as important a consideration as what courses to choose. Without sacrificing intellectual rigor or interest, students should try to distribute their courses across the week and throughout the day in the way that works best for them.
Message from the Orientation Interns
Hello, incoming students!
We have put together a few suggestions for you as you're finalizing the forms due next Monday, July 1st.
Meal Plan FAQs can be accessed here. We recommend referring to "How do I determine what plan I need?" to choose the best meal plan for your individual needs.
If you're interested in studying Humanities at Wes or just want to be a part of a great community of learners on campus, apply for the Living and Learning Seminar. An Orientation Intern herself says it's the best class she has taken at Wesleyan.
Filling out the Academic Interest Questionnaire not only aids in determining your advisor (as well as what your advisor knows about you), but also aids in determining which orientation group you will be put in. Therefore, please be mindful and fill out these forms in a timely manner!
We hope you're enjoying the process of preparing for Wesleyan! As always, please contact us with questions or concerns at orientation@wesleyan.edu, and follow us on Instagram @wesorientation.
Good luck with everything! GO WES!
The Orientation Interns
Naraa Altai '22
Ivanie Cedeño '22
Michelle Lei '21
Ariana Baez '22
Anya Kisicki '22
orientation@wesleyan.edu
(860) 685 5666
Summer Sendoffs
Sunday, July 21—Bay Area, CA
Tuesday, July 23—West Hartford, CT
Wednesday, July 31—Mamaroneck, NY
Sunday, August 4—Los Angeles, CA
Thursday, August 8—Boston, MA
Sunday, August 11—Chicago, IL
Thursday, August 1—New York City, NY
Thursday, August 15—Seattle, WA
More information is available here.
Have a great week and continue to be in touch if you have any questions.
Best,
Dean Wood